Dev Log 9: Importing Characters and More Crafting
Alrighty, now that the stuff around alpha release finally settled down a bit I was able to get some real work done again.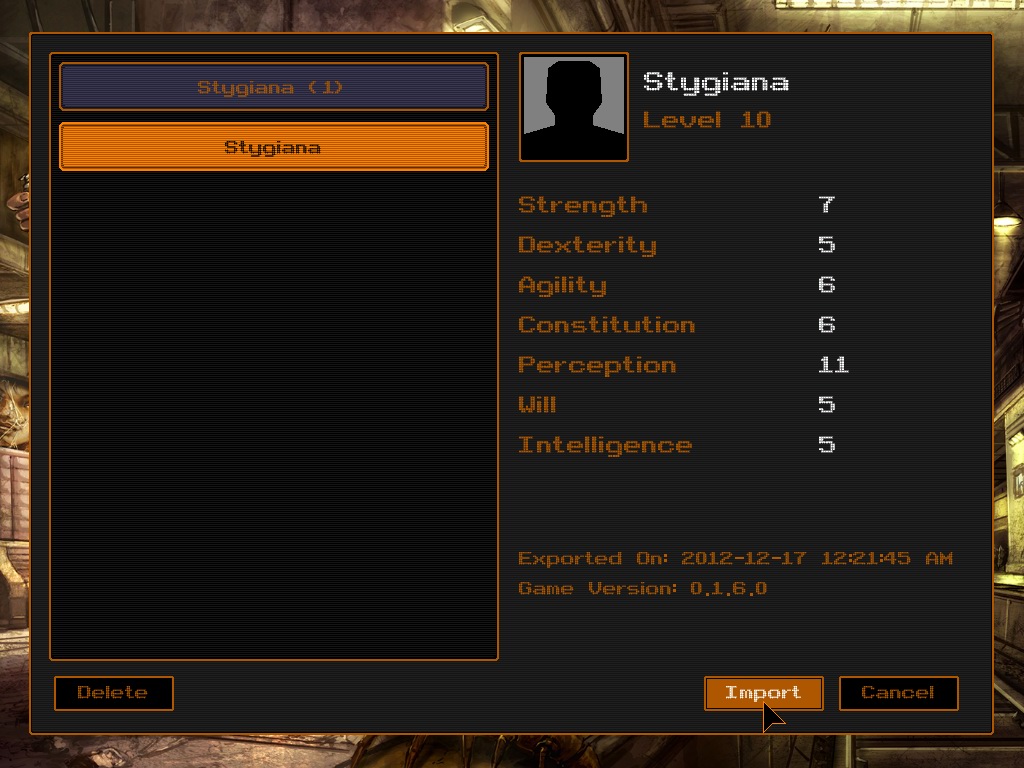 I've added export/import character options so that you can restart the game with an existing character (and all their equipment) in the future updates. This ties up to what a lot of you have been asking about - the saved game compatibility between releases. Well, the saves usually won't be 100% compatible. I won't prevent you from loading your old saves, but your saved state might miss a dialog/quest flag, an object you should have picked up earlier, a new NPC that have been added to an area you already visited, etc. So in short, you can load an outdated save game and mess around with it (it shouldn't crash or anything), but if you for some reason can't progress with the quests, I won't be able to help you with that.
Next, I've added an option to autosave on transitions for those who sometimes forget to save for a long time and die 5 areas later, losing all of the progress. I don't advise you to use this feature at the moment, because saving is a bit slow right now, especially when you get later into the game and you'll be changing areas frequently. But if you want it it's there. Also, you'll now have the option of using 'rolling saves' which means that the game will retain your (one) previous quicksave and autosave instead of overwriting it.
Now some gameplay changes.

I've changed the way the lockpicks and haxxors work. Lockpicks are now spent on successful lockpicking, so they work as a resource. They have distinct power levels and icons (+0, +5, +10) and are stackable. Haxxors work similarly like they did before, but also have distinct power levels and icons and require energy (batteries) to use.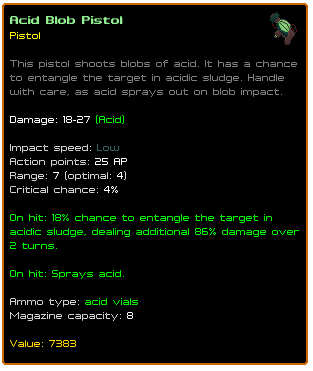 Next up is the blueprint for chemical pistols that you'll be able to use to craft guns that fire various chemicals in various forms, if you have sufficient chemistry skill that is. A chemical pistol has two major components - collector, which determines the type of substance you can load into the weapon, and dispenser, which determines the way the gun fires the substance. For now you'll only be able to create Acid Blob Pistols, but there will be more in the future. There's also "Chemical Ammo" blueprint to accompany this. If you have sufficient biology and chemistry skills you'll be able to extract acid from acid mutants and make ammo from it.
* * * * *
I'm aiming for a new release somewhere around New Year. Not sure if it's going to be before or just after though, we'll see. It'll focus mainly on crafting. I'll be adding blueprints for new interesting gadgets as well as some existing stuff that you can't craft at the moment, such as health hypos.
Another major change will be adding respawn timers on creatures in certain areas. This will serve two purposes. First, if you ever find the yourself too weak to progress further with the quests, you can spend some time and hunt through the lower level areas. Now, I'm not saying this is something you'll have to do. The game won't ever require you to grind anything. However, the combat in this game tends to be a bit hard at times, so if you're not that good at it, you'll have this option. And secondly, you'll be able to return to previously visited areas to obtain crafting materials if you're missing on some of them (like you already can with the mushrooms).
That's it for now. Let me know what you think of these changes.